Skip to Main Content
It looks like you're using Internet Explorer 11 or older. This website works best with modern browsers such as the latest versions of Chrome, Firefox, Safari, and Edge. If you continue with this browser, you may see unexpected results.
Launching the Program
Launching Sas on your computer is simple!
On a Windows computer, find the Sas icon (shown below), by searching or browsing through your folders, then double click to open the program. A data window and output window will appear, if you want to include data for running analysis see the "Loading and Opening Data" section!
Look for the icon in your computer below!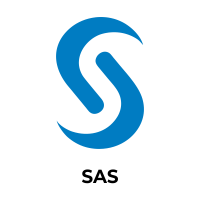 ​